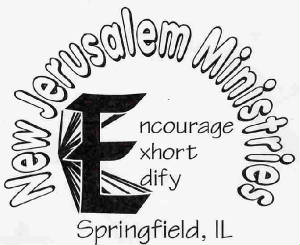 Welcome to our web site!

On this home page we'll introduce what we do and what we are all about as well as highlight important areas on our site. Sit back, enjoy, and come back often.
Contact us to get on your schedule.
Be sure to call us soon to get the date you want.

At New Jerusalem Ministries it is our vision to minister to God's people wherever they may be. As we look around we see a need, that need is to Edify, Exhort and Encourage the Body of Christ.

Through the years God has changed our thoughts on many things. We continue to minister to those who are hurting whether it is one on one ministering, Ministering to a congregation, House Church, participating in or hosting a Gospel Sing or one of any number of other things God has us doing. It is our desire to lift up Jesus and thereby to Edify, Exhort and Encourage His Church. "It's All About Jesus"
BE SURE TO CHECK OUT OUR OTHER PAGES.
THERE HAS BEEN A NEW PAGE ADDED WHICH HAS MANY ARTICLES OR NEWS WORTHY INFORMATION FOR YOU. THIS IS A PAGE TO ALWAYS CHECK OUT AND RETURN OFTEN.
CHECK THE SCHEDULE TO SEE IF WE WILL BE IN YOUR AREA.
Would you like for us to get in contact with someone you know so that we can come and sing in your area? Send me an email with the details - don't forget a name, address and phone number. If you do not want me to use your name for a reference- just mention it and I will not.

Contact us for your ministry needs

Ray & Cindy
The New Jerusalem Singers

New Jerusalem Ministries
Springfield, IL 62702
217-652-0423


Please add me to the mailing list. I would like to know when the website has been updated.
(Enter your email address below.)



If you would like to donate to our ministry, we would appreciate it. We do not use this money for personal gain, but only for ministry needs. We will send a report to you at the beginning of the year for the past year. This will assist us in being able to get the ministry out to as many as we can.

You may come back to this location as often as you would like and send your donation. If you would rather mail it to us, you may send it to: New Jerusalem Ministries - 2243 E Grandview - Springfield, IL 62702.

May God bless you richly.